Why Area Rugs?
A beautiful and functional finishing touch to your room, your area rug serves several important purposes in addition to the contribution of added texture, color, and visual appeal. Your new area rug truly defines your space, as well as presents a protective layer between everyday foot traffic and your hardwood, tile, laminate, vinyl, or other hard surface flooring.
Are you searching for a quality, comfortable area rug that makes a strong statement? The flooring experts at Floor Covering Brokers Carpet One are the team you can turn to. Do you need a rug for a challenging space or an atypical size or shape? We specialize in custom-cut area rugs and we can work closely with you to create a rug that fits perfectly, right down to your specifications.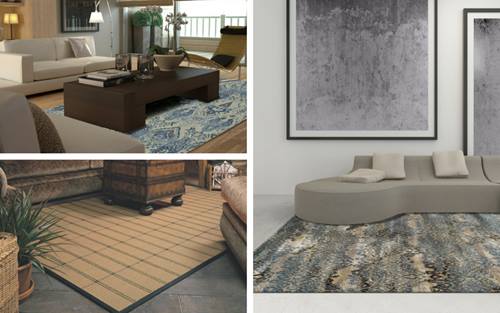 Choosing Your Area Rug
Have you decided to add an area rug to your home, but perhaps you aren't sure where to begin? We can find a perfect solution: it's all here, under our roof. We carry hundreds of carpeting and rug styles, with options to fit every decorating scheme from traditional and classical to cutting edge and contemporary.
Creating Your Area Rug
Are you searching for something truly unique? We can help you make it happen. Current trends, personal style, and your room's distinct shape and layout will dictate your area rug's shape, color, and texture requirements. We can help you create your own customized rug to fit all of those needs and more. We even offer custom rug-binding and special orders are always available. To learn more about this amazing opportunity, call us at (231) 941-4700.
Ways to Use Area Rugs
Decorating with area rugs is truly a skill and an art. Your personal style, as well as the latest trends, will dictate your rug preferences, of course, but the layout of your room is an even more critical component. The desired arrangement of your furniture will further accentuate your rug, and vice-versa. For example, placing all of your furniture on top of the rug will create a more uniform look, while arranging your furniture on a bare floor, circling an area rug will make for a cozier look.
Ready to Unroll?
Are you already imagining your new area rug? Perhaps you have questions about options to fit your budget or style? Visit our retail showroom, located at 1794 Barlow Street in Traverse City, MI today.
Learn More About Area Rugs
Area Rug Styles

A stylish area rug can be the focal point of any

design. Learn more about trending area rug styles.

Art of Area Rugs

Our design experts can help you choose

the perfect area rug. Take a look at some design tips.