Commercial Flooring
Floor Covering Brokers Carpet One Floor & Home has a full-service commercial flooring department with years of experience in commercial projects. As your locally owned flooring source, we provide personalized service based upon your unique product and budgetary requirements. Our selection of commercial flooring features styles that can complement your brand's image while withstanding heavy commercial use. Our products are not only incredibly durable, but they resist staining, stand up to spills and wear, and come with the best warranties.

As a local store, we know how important your time is during business hours, so we'll work with you to schedule installation around your hours as to minimize any interruption of business.

Some of our recent commercial projects include schools, hospitals, airports, retail and office space.
Our Work
Munson Community Health Center, 2019
Project Scope: Flooring and walls in the main entrance and corridor.
Three custom-color 24" x 24" Terrazzo Stone Tiles were selected and installed in a fashion to emulate a tranquil river, along with a sandy brown Carpet feature utilized to visually create islands. Wave-style Wall Tiles were utilized to mimic water ripples working in unison with the river-style flooring.

Not only was this an ambitious project from a creative standpoint, but also because the facility remained open to patients during the full extent of the project. Working closely with Munson Medical Center and our construction team, we were able to achieve the client's goals and deliver a beautiful, nature-themed entrance and corridor to this important community building.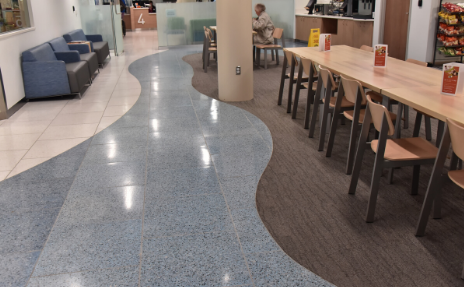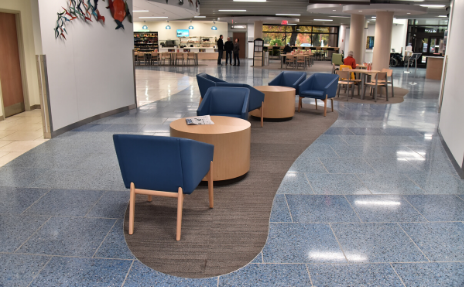 Cowell Family Cancer Center, 2016
Project Scope: Carpet Tile, Luxury Vinyl Plank, Ceramic Tile, Terrazzo Flooring, and Aluminum Entrance Walk-off Mats. Our main goal was to provide a beautiful, tranquil space designed to reduce the stress of patients and their families. Floor prep, matching ceramic surfaces, and procuring quality labor were given highest priority for this important community project. Much of the Luxury Vinyl Plank was installed in areas where the walls were diagonal and/or curved, challenging our talents for making precise floor layouts. The result is a beautiful wood-look surface that blends into the overall peaceful spaces.

Added value we brought to the project included the procurement of storage at a remote location due to the limited amount of on-site storage available. We added space to our existing fully-staffed warehousing area, organized material receiving, and arranged accurately timed delivery to the job site.

Bayshore Resort, 2018
Custom Carpet for steps, corridors and conference rooms.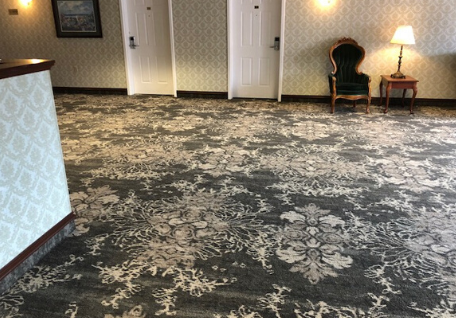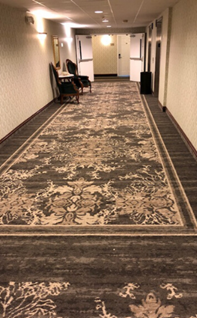 Mancelona Public School, 2019
Custom Carpet Tiles in school entryway featuring school logo.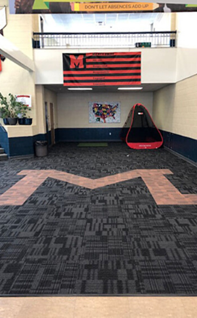 The Cottages at LochenHeath, 2019
The exclusive waterfront golf development sits on the shores of East Grand Traverse Bay. Mapleridge Construction lead the project as the general contractor, paired with Shane Inman from the Inman Company as the lead designer. "We've been working with Shane for over a decade," says Kim Cassady, Sales Manager Floor Covering Brokers Carpet One, "He never fails to make every project super successful, and most importantly, fun!" Each spacious cottage includes wood laminate flooring throughout, four en-suites bedrooms with and spacious bathrooms featuring large format porcelain tile and custom showers.