Mannington Adura Flooring
Get to know more about Mannington's Adura collection
Mannington Adura Distinctive Plank
At Floor Covering Brokers Carpet One, we want to bring you only the best brands in the flooring industry. That is why we carry Mannington Adura Luxury vinyl floors. Mannington Mills Inc. is a fourth generation family owned business that adheres to the value of "care, do the right thing, work hard/play hard, and control your own destiny".
What is Luxury Vinyl Plank Flooring?
Mannington Mills Inc. is one of the leading flooring manufactures in the world and specializes on all spectrums from hardwood, laminate, porcelain tile, sheet vinyl and luxury vinyl. They service both the residential side of the industry as well as the commercial side. They continue to pursue its commitment to quality, customer satisfaction and the environment through innovative product design and marketing, state-of-the-art processes and industry-leading programs.
Watch this short video below about Mannington Adura luxury vinyl, and then continue reading more about what sets it apart from the rest of the luxury vinyl flooring industry.
Think Mannington Adura is the right choice for you? Make sure you stop by our showroom in Traverse City, MI and visit with one of our flooring professionals today.
Mannington Adura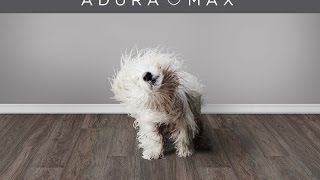 Luxury Vinyl Flooring Durability
What really sets Adura apart is its durability. Mannington uses its ScratchResist technology on the surface of Adura to protect it and make it resistant to scratches and scuffs. This feature makes Adura suitable for bathrooms, bedrooms, and entry ways.
Luxury Vinyl Hardwood Look
Adura follows suit with other luxury vinyl products when it comes to replicating hardwood and stone flooring. Adura uses high resolution images and embossed in register technology to mimic the look and feel of hardwood and tiles, and in some cases it is almost impossible to tell the two apart.
Waterproof Luxury Vinyl Flooring
Adura's best selling-point is that it is waterproof. Whether you choose a plank or tile option, Adura will never expand or contract due to moisture and you won't have to worry about it harvesting mold and mildew